Last week, Nathan's Mum Marisa bought along some sea monkeys to school.  It works in perfectly with our work on the cycle of life!  On Friday we prepared the water with a special conditioner.  We left it over the weekend.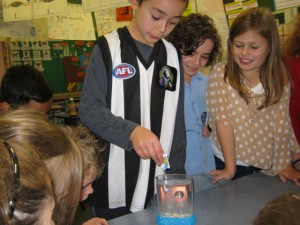 Today we added the special sea monkey eggs to the water we prepared on Friday.  The eggs are enclosed in some crystals.  We  placed the sea monkeys in a warm and well lit place.  We are all excited to see what will happen!  It could take up to 7 days for the eggs to hatch in the water.  Stay tuned!
How many days do you think it will take?  Will the sea monkeys change their appearance?